Have you just adopted or bought your own husky?
They are well known for being one of the friendliest and most intelligent dog breeds around, so they deserve a name that matches their paw-some personality.
So, we have picked out some of the best husky names. There is bound to be one that is a perfect fit.
Husky Names
Did you know that Huskies are one of the most popular dog breeds in America?
This is because they make fantastic four-legged friends, because of their soft and playful nature. Their popularity is also down to celebrities who choose them as their canine companions like Miley Cyrus and Jared Leto!
You would be barking mad not to check out our list of names below:
Husky Names
Aurora
Ernest
Dakota
Eagle
Hawk
Bucky
Glacier
Bandit
Cheyenne
Sable
Blizzard
Bear
Luna
Bruiser
Hunter
Celeste
Tonya
Zoe
River
Niki
Max
Panther
Shadow
Avery
Houdini
Alex
Nim
Shilouh
Kai
Scout
Saber
Khan
Chilli
Fox
Chief
Moose
King
Stealth
Bailey
Izzy
Kayla
Spear
Maximilian
Cammo
Buddy
Abi
Duke
Tiger
Lightening
Alexa
Bella
Wolf
Loki
Uma
Chase
Sailor
Delta
Roxy
Fabio
Coco
Casey
Hank
Chyna
Finn
Dixie
Piper
Geneva
Jax
Kiko
Gus
Lexi
Titan
Cooper
Flame
Jasper
Rei
Maverick
Hopper
Nova
Skye
Buffy
Token
Axel
Nala
Zorro
Gunther
Chance
Fergus
Arya
Koda
Sadie
Trouble
Mischa
Togo
Lobo
Mia
Bianca
Riley
Leo
Female Husky Names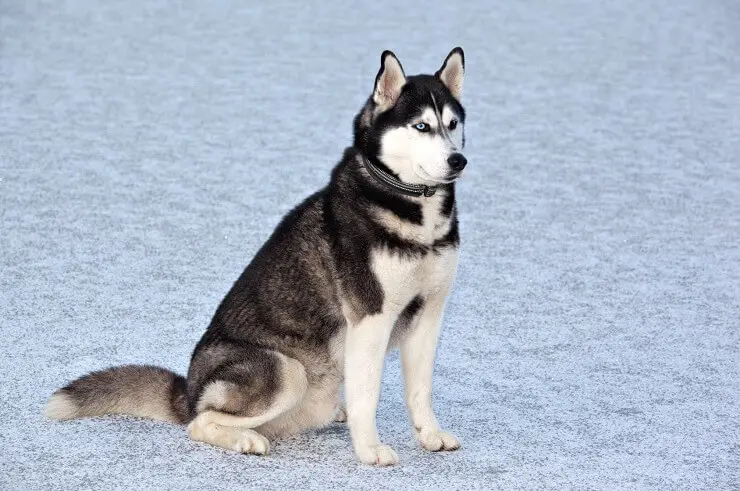 Can't decide on a Husky name for your feisty female friend?
Well, we are here to give you a helping paw. A great way to choose a name for your new Husky is to look at your favorite characters from pop-culture. We think that Sansa (from Game of Thrones) would be a paw-some name for a Husky with a lot of sass.
Take a look at our names below:
Sansa – Game of Thrones.
Lilo
Anna
Sierra
Aurora
Maru
Lady
Elsa – Disney's ice queen from Frozen.
Mulan
Leia – Starwars.
Iris
Valkyrie
Topaz
Jewel
Star
Freya
India
Marvel – Like the super hero Captain Marvel.
Hermione
Shae
Geneva
Fergie
Zendaya
Fuchsia
Wanda
Miley
Xena – The famous warrior princess.
Daisy
Sonny
Genesis
Sasha
Male Husky Names
Huskies are well known for their playful nature!
So, if your furry-friend loves to have fun, why not choose your male Husky a playful name? It's always great to choose a name that really reflects your pup's personality.
Our favorite name is Boomerang – its paw-fect for a pup who loves to play fetch.
Atlas
Boomerang – Great for a boisterous boy who keeps bouncing back.
Tundra
Voodoo
Bowie
Homer
Cody
Elmer
Malakai
Thor – After the God of Thunder, this would be a fab name for a dog with a thunderous bark.
Storm
Fang
Alwin
Truman
Vader
Tigger
Nero
Hurricane
Zeus – King of the Gods.
Stag
Koko
Phoenix
Boomer
Solo
Forrest
Damion
Timber
Zippy
Cosmo
Drift
Siberian Husky Names
Did you know that most Huskies originated from Siberia?
That is why their official registered name is Siberian Husky in the American Kennel Club. They were originally bred to be sled dogs, fit for pulling heavy loads and able to withstand the cold.
Take a look at some of our favorite names for your Siberian Husky:
Siberian Husky Names
Nymeria – The name of a dire-wolf from Game of Thrones.
Alaska
Miska – Meaning little bear.
Jericho
Hun
Wolfgang
Ulf – Meaning wolf.
Venus
Eska – As in, Eska Falls.
Rogue
Kian
Wylie
Draco
Nanuk – Inuit for Polar bear.
Stana
Java
Shasta
Tatuk – Inuit for good morning.
Elektra
Alaskan Husky Names
Did you know that Alaskan Huskies are not actually classed as a pure-bred breed of dog?
They were specifically bred for their ability to work, so this means that Alaskan Huskies have a lot more color and coat variation than Siberian Huskies and Alaskan Malamutes.
Check out our favorite Alaskan inspired names. You would be barking mad not to consider some of these paw-some names:
Alaskan Husky Names
Sitka – The name of a city in Alaska.
Igloo
Akiac – Meaning brave.
Arctic
Ulva – Meaning wolf.
Inuit
Cupun
Beluga
Eska – This means creek.
Polar
Siku – This means ice.
Mammoth
Kayuh – Mountain.
Nomad
Kazu – Meaning peaceful.
North Star
Cute Husky Names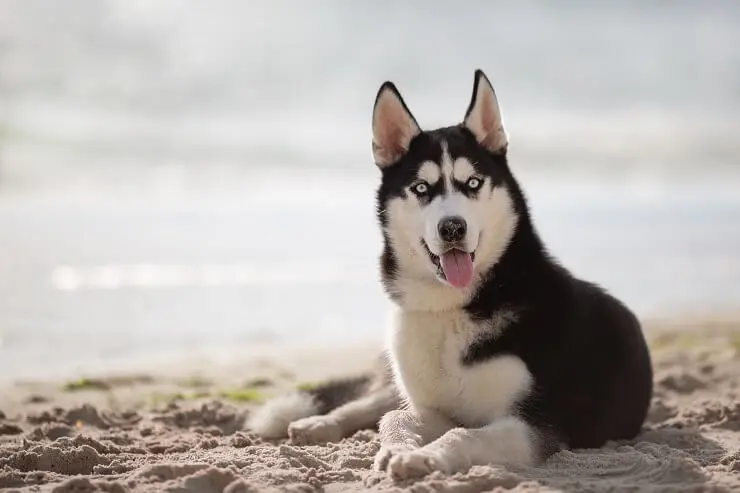 Are you looking for a cuter name for your Husky? Then look no further.
Huskies are truly the sweetest balls of fluff around, perfect for cuddles in the cold because of their amazingly soft and fluffy coat. These names will give your pup the "aww" factor, as they bowl everyone over with their cuteness.
Gizmo
Snowball
Basil
Mistletoe
Bambi
Dougal
Fluff
Snow-Angel
Angelica
Ted
Autumn
Syral
Woody
Boo
Nana
Rocket
Best Husky Names
Huskies are often called wolf-like, due to their uncanny resemblance to their wonderful wolf ancestors.
Many believe that Huskies are the closest descendant of wild wolves. Why not name your dog something that really fits in with their wild roots?
Howl about one of these Husky names:
Best Husky Names
Cersei
Athena
Spirit
Willow
Apollo
Huntress
Tsar
Akiak
Akira
Asher
Chinook
Sakari
Zola
Valentine
Zodiac
Balto
Romeo
Draco
Alpha
Khaleesi
Names For Female Husky With Blue Eyes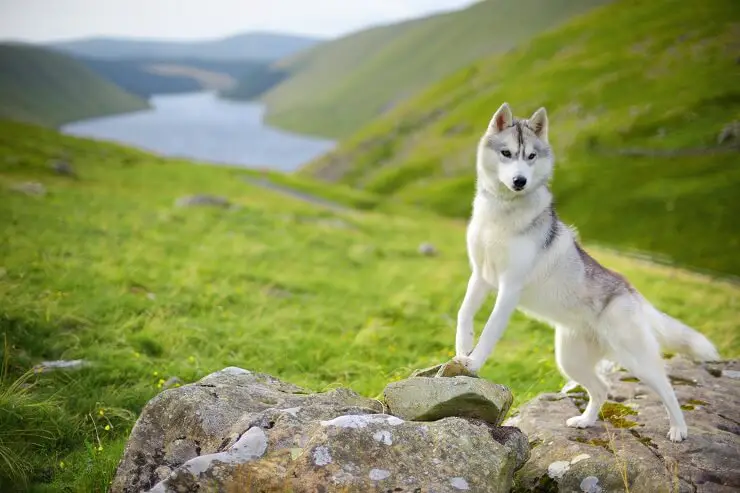 Does your female Husky have beautiful blue eyes?
We think it would be a great idea to incorporate their eye color into their name. Blue eyes are not common in most dog breeds, however many Huskies have brilliant and bold blue eyes.
Check out these names for you blue-eyed pooch:
Rain
Marina
Azula – Spanish for blue.
Isis
Indigo – A type of blue, this would be perfect for a female with bright blue eyes.
Brooke
Skylar
Azurite – Another blue stone.
Cyan
Teale
Celeste – Sky blue.
Royal
Velvet
Agate – A blue crystal quartz.
Diamond
Topaz – A blue gem-stone.
Denim
Lapis – A type of blue stone.
White Husky Names
Some Huskies are white as snow.
You are going to have a hard time finding them in the snow but picking a great and unique name is a sure way to make sure your Husky comes bounding back.
Check out these wonderful white Husky names, they are bound to get tails wagging:
White Husky Names
Ice
Blanc – French for white.
Ghost
Bolt
Casper
Misty
Angel
Pine
Stark
Moonshine
Sesi – This means snow.
Stardust
Winter
Vanilla
Alps
Opal
Jack Frost
Summary
Huskies are one of the world's most wild and wonderful breeds.
Their wolf-like appearance yet hard-working and loveable nature makes the Husky an all-around perfect pooch. They really do deserve a name as amazing as they are.
We hope that this list has helped you decide on a great name for your new four-legged family member. There are so many sources of inspiration to find, whether you choose to name your Husky based on their looks, personality – or even after your favorite movie character.