Native American names can be a great choice to consider when thinking of a name for your furry friend.
Often these names can have secret and mystical meanings, which makes for a unique choice of names.
Also, it's a great way to connect with your ancestry if you have Native American roots, or are simply a history lover and a fan of a famous Native American figure (there are so many names to choose from).
We know that choosing a name for your pup can be ruff… so we have picked some of the most beautiful, bold, and noble Native American dog names for you. We hope we can help you find the pawfect name for your pup!
Native American Dog Names
Did you know that Native Americans used their canine companions to help them in day-to-day life?
Dogs were often used as hunters – they were more than just furry friends. Dogs have often been used to help us hunt throughout history, so why not think about naming your friend after a Native American word for a predator?
Here are some of our furr-avorite Native American names for your pooch:
Makaya – Eagle hunter
Akikta – Determined and never give up
Dakota – This means 'friendly' and can be used for both a female or male dog
Cherokee – One of the largest Native American tribes
Achak – Spirit
Taima – Thunder
Cheveyo – Spirit warrior
Miwok – A bear's growl
Cailan – A warrior of life
Jolon – Valley of the dead oaks
Kitchi – Meaning 'brave' or 'strong'
Lye – Smoke
Mitexi – Sacred moon
Tallulah – Leaping spring
Yuma – A Chief's Son
Kohana – Swift
Kele – Sparrow
Ahawi – Deer
Kwanita – Meaning 'God is gracious'
Enola – A loner
Tocho – Mountain lion
Pallaton – Warrior
Bly – Tall
Pezi – Grass
Atim – Simply meaning 'dog'
Denali – Great One
Pazi – Yellow bird
Liseli – Light
Maka – Earth
Halyn – Unique
Lonato – Flint stone
Hinto – this refers to 'deep blue eyes'
Soma – Sun
Tyee – Chief
Calusa – A Native American tribe
Eyota – Great
Kai – Willow Tree
Mansi – A plucked flower
Akecheta – Fighter
Ayita – Meaning the first person to dance
Pati – Fish basket
Tahki – Cold
Peta – Golden Eagle
Meli – Bitter
Migina – Meaning 'return of the moon'
Abeytu – Green leaf
Chlumani – Dew
Doba – Meaning 'no war'
Miki – Little
Kanti – Singer
Native American Female Dog Names
Native American dog names can make some sassy and furr-ocious choices for your female dog!
Did you know that Inuit Sled dogs, as well as the Greenland Dog and the Alaskan Malamute are said to be descendants from Native American dogs?
These breeds have the closest genetic links to their Native American doggy ancestors. If you have a grrr-ly Greenland dog, a female Native American dog name might be the perfect choice.
Native American Female Dog Names
Catori – the she spirit
Adsila – Blossom
Nova – Means 'chases butterflies'
Dy – A beautiful deer
Koko – Night
Papina – Ivy
Winona – First born daughter
Saloso – Cry of the wild goose
Una – one
Nizhoni – Pretty
Yoki – Rain
Sunki – To "catch up with"
Naira – Girl with large eyes
Sayen – Loveable
Arizona – Little spring
Onida – Child of importance
Wyanet – Beautiful
Kasa – Dressed in furs
Lulu – Rabbit
Iskwew – Women
Tadita – One who runs
Shikoba – A feather
Mika – Intelligent raccoon
Tama – Thunder
Pavita – Clear water
Doli – bluebird
Nina – Strong
Luyu – Wild dove
Wuti – Woman
Macha – Aurora
Sitsi – Daughter
Dena – Valley
Fala – Crow
Sawni – Echo
Inola – Black fox
Etenia – Rich
Henna – Red
Goga – Summer
Winema – Chief
Anna – Mother
Hinto – Blue
Atsila – Fire
Waapi – White
Chepi – Fairy
Nayeli – 'I love you'
Rozene – Rose
Tayen – A new moon
Sasa – Goose
Winnie – Fair one
Bena – Pheasant
Native American Male Dog Names
Do you feel like you're barking up the wrong tree when you're looking at common names for your male dog?
Choosing a Native American dog name will stand out in a crowd and ensures that your male dog will have a name with a secret meaning.
Often, Native American names were inspired by nature – this would be pawfect for a pup who loves to play outside.
There are also Native American names that can make your pooch sound brave and strong – a paw-some idea if you've got your very own male Malamute! because these pups are the most boisterous of them all.
Native American Male Dog Names
Herrick – Leader of an army
Lusio – Light
Bodaway – Fire maker
Sinopa – Fox
Akando – Ambush
Maska – Strong
Chaska – First born son
Nayavu – Clay
Dyami – Eagle
Pachu'a – Feathered water snake
Tooantuh – Spring frog
Odakota – Friends
Ahote – Restless one
Paytah – Fire
Gad – Juniper Tree
Askook – Snake
Nikiti – round and smooth
Skah – White
Aditsan – Listener
Kilchii – Red boy
Delsin – 'He is so'
Wahkhan – Sacred
Axe – Father of peace
Yahto – Blue
Enyeto – Walks as a boar
Ahunu – he laughs
Nakos – Sage
Annawan – Chief
Ahmik – Beaver
Chatan – Hawk
Alo – Spiritual guide
Mongwau – Owl
Tokala – Fox
Etu – Sun
Diwali – Bowls
Helki – Touch
Mato – Bear
Menewa – Great Warrior
Hakan – Fire
Elsu – Flying falcon
Iye – Smoke
Patwin – Man
Jolon – Valley of the dead oak
Adahy – Lives in the woods
Aranck – Stars
Pinon – Name of a myth
Ituha – Sturdy oak
Bidziil – Strong man
Kono – name unknown
Cha'tima – The caller
Native American Names For Wolf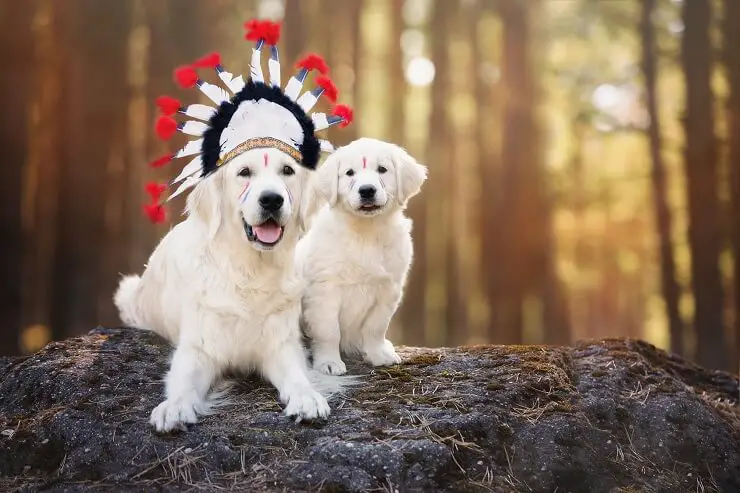 Did you know that Native American dogs were more closely related to wolves than our domesticated dogs of today?
Wolves and Native Americans share a special relationship. They have been regarded as a spiritual animal that conveys both beauty and power.
Some tribes felt wolves were mystical and modeled their own tribes upon wolf packs. They believed that every wolf would lend a helping paw to others in their pack, which Native Americans tried to incorporate into their communities.
Howl can you resist these names?
Tala (Sioux)
Hemene (Nez Perce)
Kiyaya – Howling Wolf (Yakima)
Honi (Aropho)
Aho – Whitewolf
Lelou (Chinook)
Shunkaha (Lakota)
Honiahaka – Little Wolf (Cheyenne)
Okhmhaka – Little Wolf (Cheyenne)
Maikoh (Navajo)
Maiyun (Cheyenne)
Maheegan (Algonquin)
Waya (Cherokee)
Beya ish (Shoshone)
Tivaci (Chemehuevi)
Teekon (Athabascan)
Mahigan (Cree)
Kyiyu (Seneka)
Kooy (Kiowa)
Lokwa (Nootka)
Sinapu (Ute)
Mingan – Dark wolf
Omitaa – Dog (Blackfoot)
Amarok/Amarog – Mythological wolf (Inuit)
Native American Dog Names and Meanings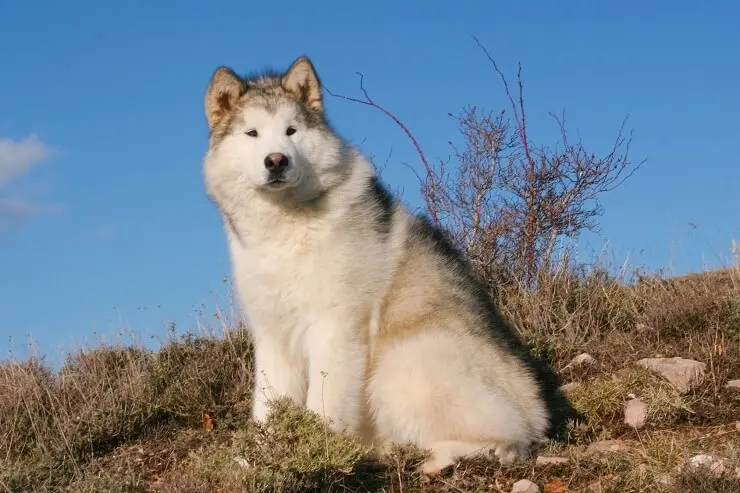 Iracema: This literally means 'honey-lips' so is perfect for a sweet and sensitive pup!
Hiawatha: Meaning 'he who combs'.
Ixchel: This means 'rainbow lady' – great for a dog with a bright personality.
Tlalli: Means earth.
Wapasha: This means 'red leaf' and was the name of many Native American chiefs.
Hialeah: Meaning a pretty prairie.
Yunuen: Half moon. This would make a beautiful name for a husky!
Miwak: This means 'growl of a bear' – great for a furr-ocious dog.
Chumani: Dew drop.
Holata: This means 'alligator'. This would be great for a dog with a brilliant set of pearly whites!
Famous Native American Names
Another great way to pick a name is to look at famous individuals.
Here are some famous Native Americans, all with totally amazing names! Take a look through the list below.
Pocahontas – A native American woman who married an Englishman. Though a true story, it was glamourized by Disney's film Pocahontas. A great name for any Disney fan!
Black Hawk – A brave and fierce war chief who fought to save his people's land.
Geronimo – Leader of the Chiricahua Apache tribe – but his name also means 'one who yawns'.
Gall – A Lakota leader who played a huge part in the Lakotas' fight against the United States.
Pontiac – Another famous chief of the Ottawa.
Nanye-hi/Nancy Ward – Nanye-hi was given the title of Ghigua (war woman) after her part in the Battle of Taliwan.
Mourning Dove/Christine Quintasket – A famous female Native American writer.
Tecumseh – Shawnee leader, Tecumseh is most well-known for his part in retaking the land taken from Native Americans. His name also means, 'panther in the sky'.
Hiawatha – Little is known of the real Hiawatha; however we know he was an advocate of peace. Henry Wadworth published a book, 'the Song of Hiawatha' that is loosely based on him.
Maria TallChief – A famous dancer, TallChief was born to an Osage Nation father. Her fantastic ballet skills led to her continued input into Chicago dance schools – one of which she founded.
Summary
Native American names have so many different meanings.
There are so many names to choose from, ranging from the nature inspired Yoki (rain) to the name that literally mean wolf (like Tala). These unique names are truly great for you and your pooch and are sure to catch people's attention when calling your pup in the park.
We hope that you have found the right name for you and your furry-friend!