So you have chosen a new addition to the family and they happen to be a loveable chocolate lab.
Did you know that Labrador retrievers are one of America's most popular dogs? That is because labs are one of the most loyal and rewarding dogs to own, so they deserve a name that gets everyone's tails wagging.
Choosing a name can be challenging because there is so much pressure to find a name that suits your pooch.
We have found some of the best names for chocolate Labradors to help you pick the paw-fect one, take a look at our lists below…
Chocolate Lab Names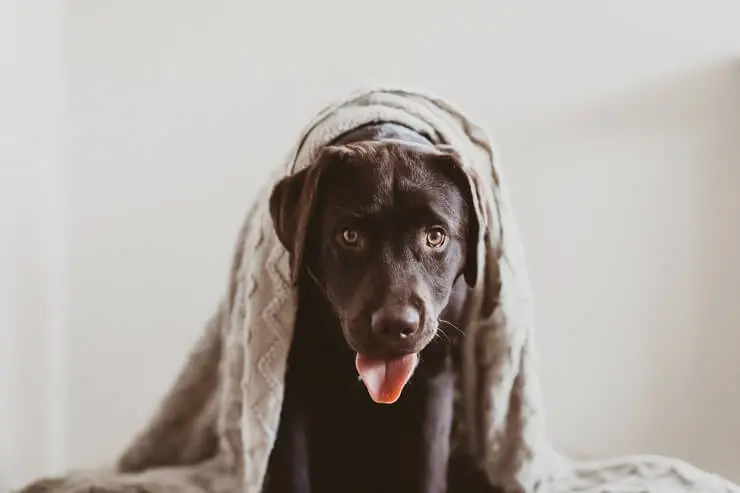 Did you know that chocolate Labradors are sometimes referred to as liver Labradors?
Somehow, we think chocolate is a lot cuter!
Chocolate Labradors have a beautiful brown colored coat, making them unique and distinct from other labs. We think that it's a paw-some idea to choose a name based on their fabulous fur. Our favorite name for a chocolate lab is Cocoa.
What's yours?
Chocolate Lab Names
Cocoa
Rusty
Thorn
Bailey
Brownie
Amaretto
Bernie
Lexi
Chocolate
Maisie
Bracken
Copper
Moose
Diesel
Oakley
Olga
Bud
Raven
Smartie
Brooklyn
Cedar
Merlin
Biscuit
Nellie
Murphy
Wyatt
Milo
Timber
Lola
Fudge
Chomp
Sasha
Whiskey
Isla
Rolo
Riley
Chestnut
Brooke
Buster
Scout
Beauty
Sadie
Murray
Rover
Lucie
Twiglet
Olympia
Penny
Expresso
Duke
Breeze
West
Moss
Bree
Mocha
Snoopy
Blitz
Cola
Peanut
Lou
Coffee
Odie
Toffee
Dart
Walnut
Jake
Forrest
Gunther
Maple
Zola
River
Cookie
Wilf
Danny
Sierra
Maggie
Bucky
Mahogany
Ted
Scooby
Trooper
Guinness
Sable
Coda
Liberty
Dusty
Lulu
Nutmeg
Sheba
Tawny
Lily
Duchess
Holly
Finn
Nala
Dylan
Bruno
Boris
Tanner
Rocky
Female Chocolate Lab Names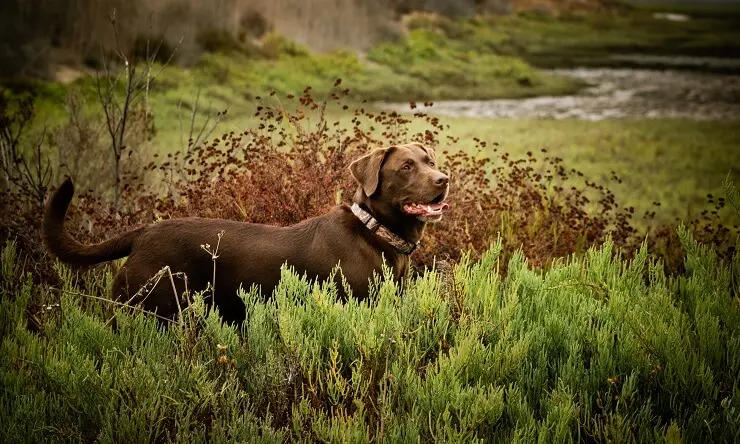 Finding the right name for your chocolatey furry friend can be really rough – but we are here to give you some inspiration.
There are so many names to choose from in our list below. If your chocolate lab is as feisty as she is fabulous, we recommend picking a name that really fits this personality, like Amber or Diva.
Whether your female chocolate lab is funny or fearless, there is bound to be a name paw-fect for her in our list below:
Fizz
Fleur
Bella
Savannah
Gigi
Ray
Athena
Poppy
Faith – perfect for your faithful furry friend.
Roxy
Clover
Katniss
Valentine – A beautiful name for a pup who has stolen your heart.
Elysia
Sansa
Amber
Gracie
Violet
Vixen
Daisy
Scarlet
Olympia
Arya
Kayla
Diva
Pepper
Dakota
Taylor
Ruby
Trixie
Stella
Willow
Khaleesi
Lady
Echo
Luna
Bonnie
Dolly
Isis
Lark
Male Chocolate Lab Names
Your male chocolate Labrador is bound to become a vital member of your pack, so it's important to choose a great name for him.
A fantastic way to help decide on a name for your chocolate canine is to look at your favorite characters from movies. Our favorite is Woody, from Disney's Toy Story – it also is a great reference to your pup's dark brown coat.
Or perhaps you would prefer a name based on your pet's unique personality? Avalanche would be an amazing name for a boisterous pup with a bold and daring side to him.
Ajax
Snickers – named after a chocolate bar, it is no mystery why this would be a fantastic name for your chocolate lab.
Mojo
Gizmo
Homer
Grommit
Scrappy
Sully – After the large furry monster from Monsters Inc.
Nacho
Winchester
Apollo
Toby
Brian
Goliath
Avalanche
Conan
Achilles
Hercules
Kirby
Levi
Billie
Sherlock
Ozzie
Gator
Romeo
Tigger
Simba
Hulk
Woody
Sammy
Dexter
Arlo
Logan
Thor
Gus
Chester
Zelda
Otis
Pongo
Rogue
Chocolate Lab Puppy Names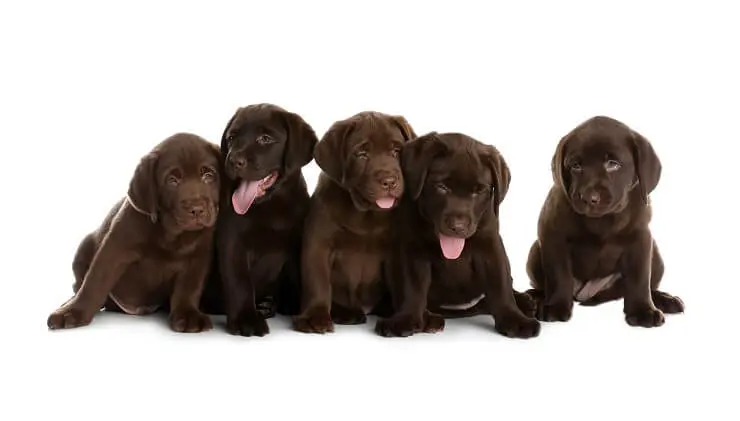 Chocolate labs are definitely the most precious puppies ever. Even though they grow to be big and powerful (with an appetite to match) as puppies, chocolate labs are small and playful bundles of joy.
Here are some absolutely a-paw-able names that are perfect for your playful pup! Our favorite name is Angel – let us know your favorite.
Chocolate Lab Puppy Names
Angel
Clifford
Basil
Buttercup
Pablo
Candy
Mika
Sunny
Bean
Tallulah
Barnaby
Bobo
Gabriel
Skye
Pip
Uno
Scamp
Maya
Bo
Nemo
Ziggy
Pixie
Ollie
Rose
Minnie
Buddy
Chocolate-Drop
Chica
Albi
Lucky
Best Chocolate Lab Names
Did you know that Labradors originate from Newfoundland and were originally bred to be working dogs? Now, we love all Labradors (especially chocolates), however, originally black Labradors were the preferred pups.
But we are positive that this is not the case for you.
Your chocolate lab, whether a working dog or a stay-at-home cuddly companion, is bound to be the best in your eyes. That is why we are here to lend a helping paw and help you pick the best name for your chocolate coated buddy!
Best Chocolate Lab Names
Hershey
Monty
Hazel
Archie
Reese
Shadow
Marley
Hope
Champ
Major
Ellie
Layla
Mia
Max
Bear
Cooper
Cassidy
Alfie
Fall
Winston
Libby
Cleo
Charlie
Pippa
Eve
Autumn
Cadbury
Buck
Oscar
Rosie
Cutest Chocolate Lab Names
Are you ready for an absolute cuteness overload? Chocolate labs are the cutest canines out there and deserve an equally as cute name. These names are sure to have people "awwwing" when you call your pooch's name in the park.
Howl could you resist these names?
Kiki
Spud
Chewbacca
Teddy
Blossom
Babe
Delilah
Chunky
Sweetie
Chanel
Chewy
Pal
Bingo
Baby
Chip
Pudding
Pumpkin
Halo
Bambi
Atlas
Bubba
Cherry
Fig
Cinnamon
Eden
Koko
Leia
Ozzy
Humphrey
Piper
Wally
Buttons
Yogi
Male Chocolate Lab Hunting Names
Labradors are one of the most popular hunting dogs in the world. As their name suggests, they were bred to retrieve game during hunts.
Even if your loyal chocolate lab does not join you on a hunt, why not connect your chocolate lab to their hunting roots? We think that choosing a name based on their hunting hound roots would be a paw-some way to pick a unique name for your lab.
Male Chocolate Lab Hunting Names
Hunter – Straight to the point, this would be an obvious link to their hunting hound lineage.
Brutus – Fantastic for a boisterous and bold boy.
Bullseye – Great for a dog who never misses a target.
Dixie – This refers to a very popular area for hunting in the south.
Artemis – The Greek God of hunting.
Ranger – Someone who patrols or looks after a given area. Perfect for a lab who covers a lot of ground.
Robin – Like the famous mythological outlaw from Nottingham.
Bullet – Great for a lab who runs as fast as a bullet.
Rambo – A pop culture reference, based on a famous military character.
Clint – After Clint Eastwood.
Camo – Great for a chocolate lab who blends in well with the woodlands.
Hawk – A bird that is as agile as it is powerful.
Trapper – Like the name suggests.
Summary
Owning a chocolate Labrador is a rewarding and life-changing experience. Labs are one of the most loyal, intelligent and loving breeds out there.
Not only that, your chocolate Labrador's silky brown coat is so unique and what sets them apart from the rest of their Labrador family. Each and every lab is special in their own way, so we know how important it is to find them a name that truly suits their loveable and individual personality.
Choosing a name can send you barking mad, but we hope our list of names has helped you choose one that is the paw-fect fit for your pooch.