So, you are the proud owner of a gorgeous German Shepherd.
Now comes the hard bit – deciding on a name for your new furry family member.
German Shepherds are well-known for their loyalty, intelligence and their great working ability. They truly are the full package being a great working dog and a great family pet.
However, we know that picking a name for your pup can be hard, so we are here to lend you a helping paw or two!
German Shepherd Names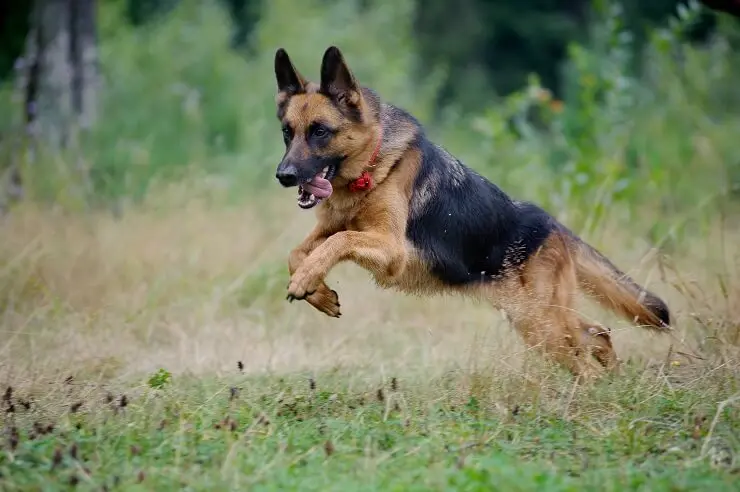 Did you know that German Shepherds were first bred in Germany by Captain Max von Stephanitz?
Since Max, German Shepherds have become one of America's most loved canine companions, ranking as America's second most popular dog.
It's clear these pooches deserve a paw-some name – so check out our list of names below:
German Shepherd Names
Max
Ida
Ace
Ali
Boris
Polo
Jasper
Brooklyn
Sheba
Oakley
Bella
Forrest
Isis
Ashley
Tillie
Rolf
Brandy
Mist
Dixie
Anya
Mona
Ember
Caleb
Smokey
Duke
Ernie
Dakota
Faith
Copper
Helga
Rex
Rusty
Harley
Sadie
Bentley
Odie
Kiki
Gunther
Indigo
Bruno
Nancy
Frida
Heidi
Rocky
Lucy
Poppy
Ark
Wolfie
Bolt
Sunny
Opal
Roxy
Zorro
West
Hollie
Breeze
Mason
Rose
Wanda
Rio
Amber
Archie
Alexa
Nikita
Tundra
Elektra
Hans
Mya
Nova
Quinn
Trouble
Luna
Kit
Ben
Silver
Wilf
Brandy
Missy
Maddie
North
Achilles
Franz
Lexus
Maxie
Olga
Berlin
Leo
Elsa
Rufus
Ella
Hermann
Twilight
Roxanne
Bear
Lacey
Onyx
Zodiac
Rambo
Milo
Raven
Female German Shepherd Names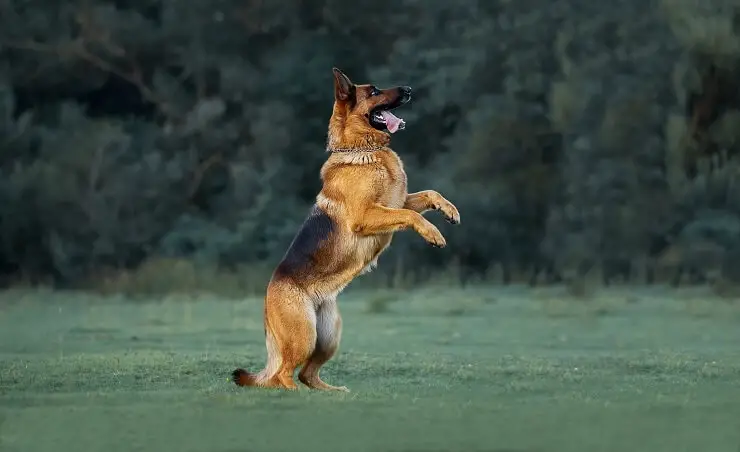 So, your new furry friend is a female German Shepherd.
German Shepherds are a fairly big dog breed and are often said to have wolf-like characteristics. Does your furry-friend look like one of her wolf ancestors? Then look no further.
We have lots of ferocious fab-fur-lous names for you to choose from for your feisty female GSD. Check them out below:
Cleopatra – After the Ancient Egyptian Pharaoh, this would be the perfect name for a female with a strong and determined character.
Destiny
Ada – Meaning noble.
Avita
Leia – Starwars
Duchess
Ilse
Rita
Bridget
Venus
Katniss – A fantastic name for a girl as strong as The Hunger Games character.
Lady
River
Lassie
Arya – Game of Thrones.
Mystic
Hope
Moonlight
Blair
Trinity
Mocha
Bree
Sydney
Charm
Krissy
Schatzi
Coco
Alayna
Angel
Belle
Male German Shepherd Names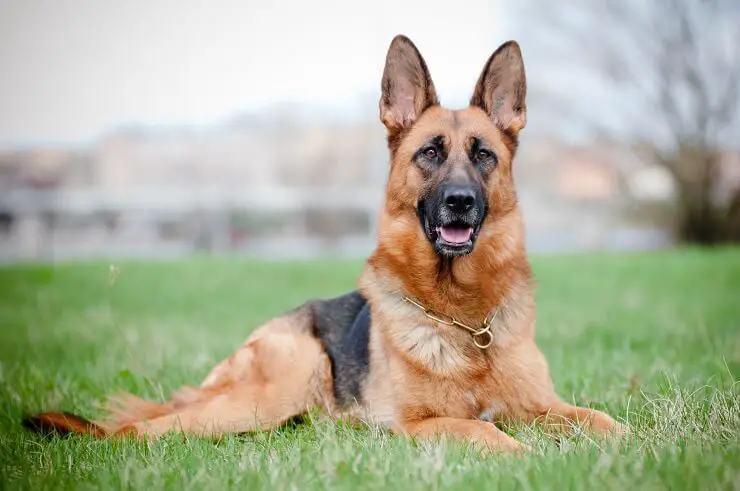 Are you struggling to find a marvelous name for your male German Shepherd?
Well, we have found some great names that are sure to get everyone's tails wagging.
Levi
Bucky
Indiana – Indiana Jones
Axel
Caesar – After the famous Roman Emperor, a great name for a brave German Shepherd.
Klaus
Luka
Donner
Kane
Roosevelt – Former US president.
Baron
Casper
Aslan
Atlas
Zak
Falcon
Bullet
Comet
Jet
Champ
Major
Hansel
Sampson
Ernie
Dougie
Sarge
Stark – Game of Thrones.
Hunter
Matrix
Rudy
Badass German Shepherd Dog Names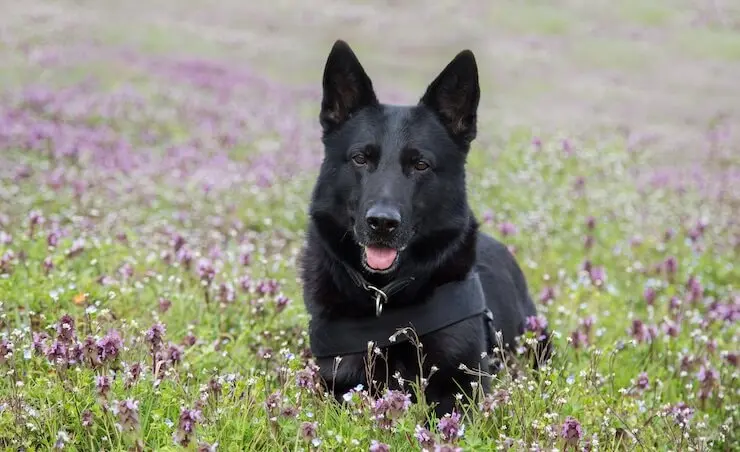 Is your pup a rebel at heart?
Then perhaps it would be a great idea to give them a brilliantly badass name! Calling one of these names in the dog-park is bound to have other hounds giving your pup a high-paw, because it will be clear that they are the top dog around here.
Our favorite name is Bandit, what is yours?
Badass German Shepherd Dog Names
Bandit
Rey
Rocco
Needle
Bond – James Bond
Tempest
Carrie
Wednesday – The Adams Family – Great if your German Shepherd is as sassy as Wednesday Adam.
Rain
Deuce
Priestess
Puma
Scorpio
Robber
Jinx
Rider
Vega
Khan
Vixen
Bengal
Fallout
Chaos
Caveman
Best German Shepherd Names
Still struggling to find the paw-fect German Shepherd name?
We think that sometimes, the best way to pick a name for your German Shepherd is to pick a name that you think is awesome. We suggest looking for inspiration from your favorite characters or celebrities.
Why not name your hound dog after a character from your favorite TV show? Or, maybe you want to pick a name based on the color of your German Shepherd's coat?
Either way, we have compiled a list of some of the best names for your GSD.
Best German Shepherd Names
Athena – Ancient Greek Goddess.
Arlo
Bolt
Snow – Great for a white German Shepherd.
Solo – Starwars.
Sansa – A strong female character from Game of Thrones.
Hawk
Cersei – Game of Thrones.
Winter
Ivy
Star
Asher
Moose
Valentine
Omega
Zeus – Another Greek God.
Liberty
Tolkien – For all of you Lord of the Rings fans, why not name your GSD after the author of the epic books?
Salem
Eleven – After the Stranger Things character.
Maximus
Ice
Buffy – The infamous vampire slayer.
Skye
Ozzy
Strong German Shepherd Names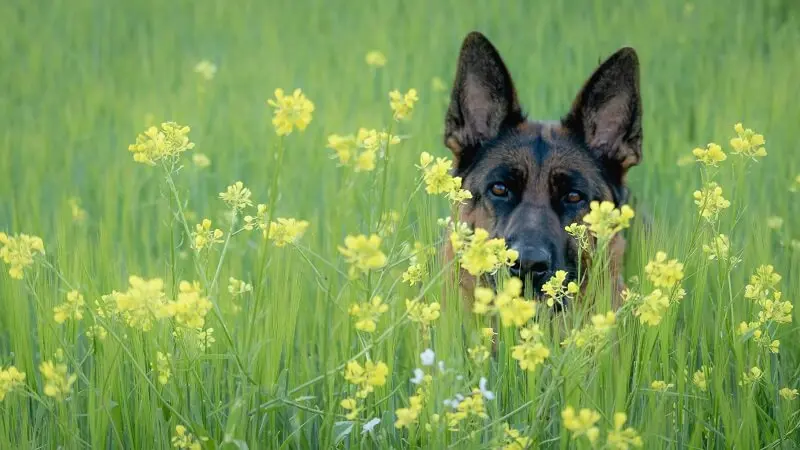 German Shepherds were bred especially for their strength, agility and work ethic – making them one of the strongest breeds of all time!
Your German Shepherd has inherited some of these traits from their working ancestors, so they deserve a name as strong as their dutiful and strong personality.
Howl about taking a look at some of our names below?
Tzar – Russian for King, a really strong name for a GSD.
Erma – This means warrior.
Blitz
Jade
Ursula – Meaning little bear.
Hex
Hades
Coyote
Hercules
Blaze
Lara
Canon
Mercy
Whirlwind
Dynamite
Apollo
Howler
Akira
Admiral
Xena – A warrior princess.
Panzer – A German tank, perfect for a German Shepherd.
Kaiser – German for King.
Apache
Storm
Blizzard
Everest
Cute German Shepherd Names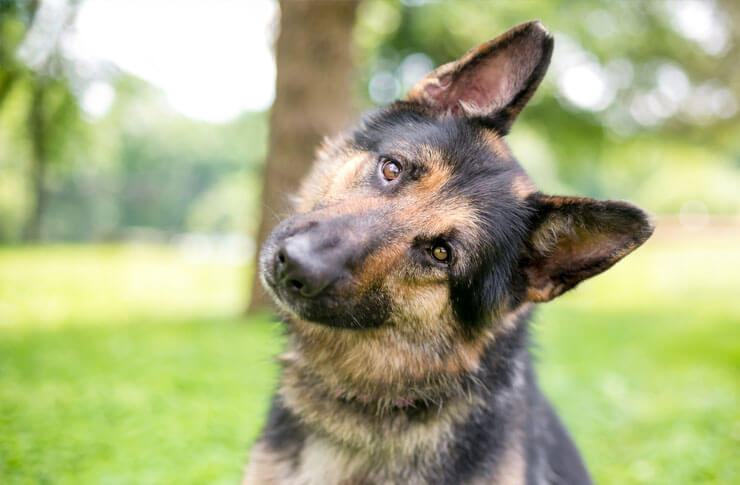 Have you still not found a name for your pooch?
Maybe you are looking for a cute and cuddly name for your German Shepherd pal. We have found some of the cutest names around and we think you will absolutely woof them. They are bound to have everyone going "awwww".
Cookie
Rolo
Baby – From Dirty Dancing
Babe
Pepper
Brownie
Pongo
Chip
Peanut
Alfie
Biscuit
Blondie
Prince
Simba – From Disney's The Lion King, how could you resist this cute name?
Corky
Delilah
Flo
Huckleberry
Pixie
Java
German Shepherd Police Dog Names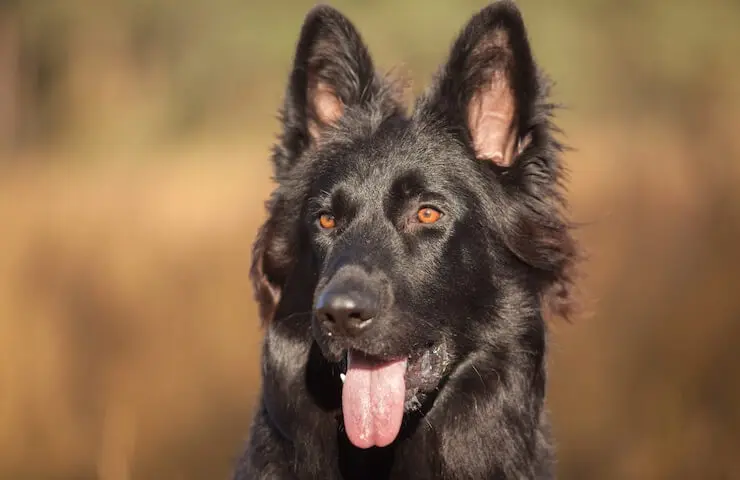 Did you know that German Shepherds are the most common dog used by the police?
This is because of their brave and bold personality and of course, their intelligence.
Some are even rewarded for their bravery, like Finn who was wounded alongside his handler in October 2016 whilst on duty. He was awarded with a PSDA gold medal for bravery by the UK government. What a heroic hound.
We have picked some names worthy of any dog that spends their days on paw-patrol. Take a look at our list of names below.
German Shepherd Police Dog Names
Finn – After the brave GSD wounded in action.
Agent
Phantom
Sherlock – like the detective.
Trooper
Scout
Zelda
Joan
Huntress
Echo
Ranger
Boss
Honor
K-9
Ape – Another brave GSD injured whilst working as a canine FBI agent.
German Shepherd Puppy Names
German Shepherd puppies are absolutely adorable.
They are so tiny, it's hard to believe they grow into such big and beautiful dogs! Here are some names that we love, perfect for your precious bundle of fluff.
Our favorite has to be Pip. Let us know which name is your favorite?
Pip
Paws
Snoopy
Socks
Buddy – Because your German Shepherd is sure to become your best buddy.
Polly
Penny
Toto
Toby
Winnie – Like Winnie the Pooh, great for a pup with a big appetite.
Wilbur
Peaches
Lulu
Nala
Otis
Mimi
Summary
One of the hardest parts about being a new owner is choosing you canine companion's name. That is why we hope we have helped you choose the right name for your German Shepherd pup.
However, we know that picking a name for your pooch is incredibly stressful.
So here are some of our favorite tips:
If you are still struggling, we recommend naming your dog based on their characteristics – every pup has its own unique personality.
Or, perhaps take a look at the color of your German Shepherd's coat – this can be great inspiration.
German Shepherds are one of the most beautiful breeds out there, and we hope you and your furry friend find a name as equally as special as they are.