Picking a German name for your faithful dog is a fantastisch idea.
They can help your dog stand out from the rest of their puppy pals. There is such a variety of German names to choose from.
Perhaps your doggy is of Deutsch heritage – being a sausage dog or a schnauzer. Maybe you are of German descent and want to pay homage to your Germanic roots.
Or, maybe you just really love an ice-cold German beer. Whatever the reason, we have got some great names for your pup.
German Dog Names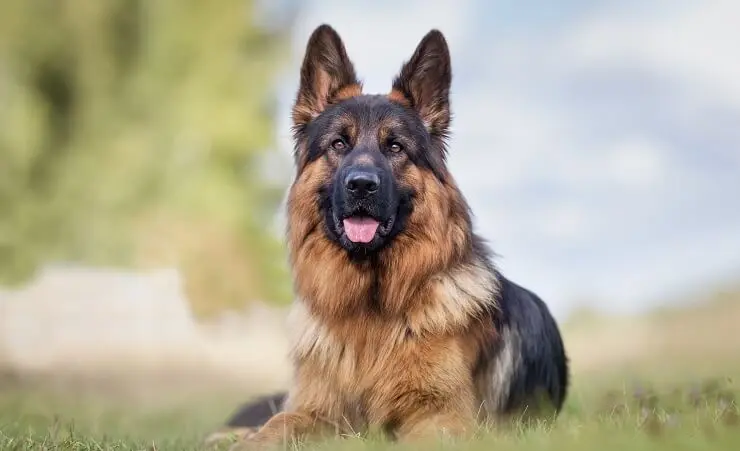 Germany is a country known for its beautiful landscapes and cities.
The most famous being its capital, Berlin which has the highest population in the country. We think naming your dog after a German city or place is a great way to make your doggy sound Deutsch. Berlin would be a brilliant choice for a brave Boxer.
If this name isn't what you are looking for, take a peek at our list below for more names that we woof.
German Dog Names
Adler – Eagle.
Ernest
Axel – Father of peace.
Charlotte
Bruno – Meaning brown.
Manfred – This means both strength and peace.
Daniel
Emilie
Berlin – Germany's capital city.
Morgen – German for morning.
Mila
Kurt
Emery – Meaning industrious leader.
Albert
Kaiser – This literally means King.
Leona – Meaning lioness.
Max
Finn
Zelig – Meaning blessed one.
Ursula – From the Little Mermaid, however in German this means small female bear.
Schwartz – Meaning black.
Alycia
Wilhelm
Greta
Franz – Meaning free.
Varick – Protecting ruler.
Otto – Meaning rich.
Annaliese
Lukas
Marta
Cosma – Meaning order. Great for an obedient and well-trained hound.
Waldo
Henri
Cathy
Cleo
Hamlin – One who loves his home.
Nikolas
Benz – After the famous German car manufacturing brand Mercedes Benz.
Stefanie
Vala
Frankfurt – City.
Dagmar – Meaning famous.
Ula – Meaning pearl.
Liebe – Meaning love.
Gerard
Pretzel – a famous German snack.
Cologne – Not referring to a men's fragrance, but instead a cool city in Germany.
Fiona
Ulrika – This means wolf ruler.
Arendt – Famous philosopher.
Hanover – City.
Bernard – Brave as a bear.
Stefan
Ernie
Martha
Alote
Sofie
Edwina – Prosperous friend.
Heinz – Meaning home of the King.
Eugene
Zak
Yohann
Elsa – Meaning pledged to God.
Brüder – German for brother.
Martin
Schwester – German for sister.
Greta – Also meaning pearl.
Hartwin – Meaning brave friend.
Munich – City.
Milo
Aldo – Meaning old and wise.
Grau – Meaning grey.
Lola
Rebekka
Addie
Clovis – Famous warrior.
Oskar
Elizabeth
Noah
Wolfe – German for wolf.
Bratwurst – a famous German Sausage.
Apfel – German for apple.
Felix
Amelot
Anna
Caroline
Johanna
Zuker – Meaning sugar.
Ayesha – Meaning little one – perfect for a smaller pup.
Vanille – German for vanilla.
Lena
Hund – Literally meaning dog.
Louis
Catja – Meaning blessed and pure.
Layna – Meaning little angel.
Cecille
Hermann – Soldier.
Leopold – For a dog as brave as a lion.
Female German Dog Names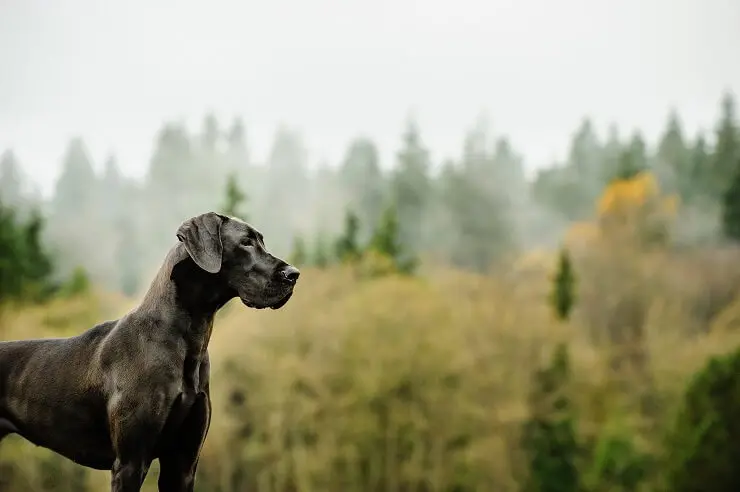 Are you looking for a furr-ocious name for your furry female friend? Or, perhaps you are looking for something daintier for your darling Dachshund.
That means there are lots of German names to choose from, as each country is bound to have its own twists. There is no need to travel to all 6 countries as we have decided to lend a helping paw and list some of the best German names for female dogs that we have discovered below:
Annika – Meaning graceful.
Fräuline – Meaning Mistress.
Hilda
Ulrika – Female Wolf Ruler
Gretel
Trudi
Romey – Meaning rebellious.
Sigrid – Like the singer.
Frida
Nia – This is a beautiful name for your ray of sunshine, as it literally means bright.
Liesel
Thea – This means Goddess.
Vera
Aubrey
Mischa – Meaning she who is like God.
Alena – Meaning small – great for a Pomeranian!
Annette
Arabella – This name means beautiful.
Emma
Fritzi – Female version of Fritz, meaning peaceful ruler.
Hertz – This means kind heart.
Erika
Raina – Great for a strong-willed female, as this name means mighty.
Vienna – Capital City of Austria.
Claudia
Britta – Strong one.
Tilli
Adolfina – Noble hero.
Rapunzel – Like the princess.
Lulu – Famous warrior.
Carla
Male German Dog Names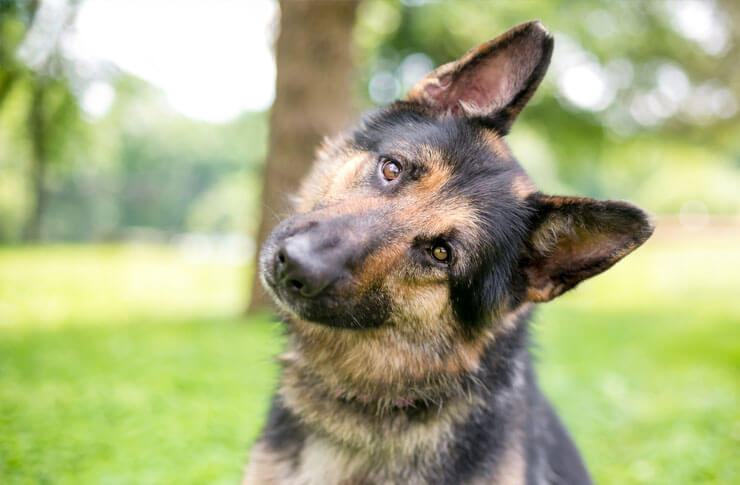 Are you looking for a bold Germanic name for your boisterous boy?
Then look no further.
If you are looking for a masculine name, why not name your pooch after your favorite German beverage, Dunkel? We think this would be an awesome name for a German Shepherd!
Take a look at our male German dog names below:
Dunkel – German lager.
Donner – Meaning thunder.
Fritz – Meaning peaceful ruler.
Fabian
Jarvis – Meaning skilled with a spear.
Mika
Alphonse – Meaning noble and battle-ready.
Bergen – Meaning mountain dweller.
Vincent
Rolf – famous wolf.
Theobold
Ulrich – Ruler of the wolves.
Walter
Ziggy – Means victorious protector.
Rudy
Kant – Famous German philosopher.
Hugo
Helmut – Meaning courageous.
Garron – Mighty with a spear.
Hans
Konrad – Meaning wise council.
Meinrad – Strong advisor.
Dwight
Baron – A German low-ranking nobleman.
Klaus
Hansel
Dietrich – People's ruler.
Kugel – Bullet.
Ozil
Maximillian
Robin
Unique German Dog Names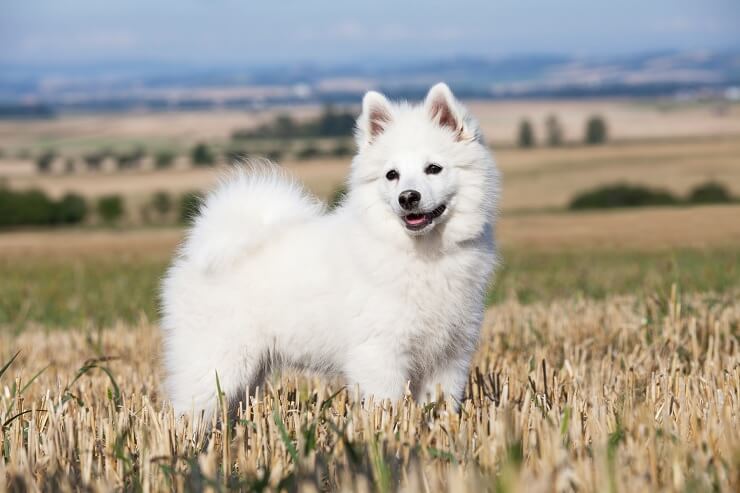 Have you still not found the perfect name for your pooch? Well, perhaps you are looking for something a little more unique.
Germany is full of culture and is also famous for certain types of food too.
What could be more unique than naming your pup after a famous German musician, or popular street food? We think this would be a great place to start looking for a special name for your pup…
Unique German Dog Names
Mozart – After the famous German musician – a great choice for a Pointer.
Einstein – After the famous German scientist Albert Einstein.
Beethoven – After the world famous German musician.
Oktoberfest – A traditional German beer festival, what an awesome name for a dog of a beer lover.
Schnitzel – A famous German dish (and a really cute name).
Freud – After the famous Austrian psychologist.
Knödel – German for dumpling – this would be a fantastic name for a cute little pup.
Hopfen – This refers to the hops used to brew beer.
Norberta – Meaning blonde heroine – great for a light-coated German Shepherd.
Klum – The last name of the famous supermodel Heidi Klum, from West Germany.
Rhine – After the Rhine River running through Germany.
Schnuki – A cute German pet-name.
Schnapps – A well-known alcoholic drink.
Schimmel – This means penny in German.
Wurst – This means sausage in German (ideal for a Weiner dog!)
Strong German Dog Names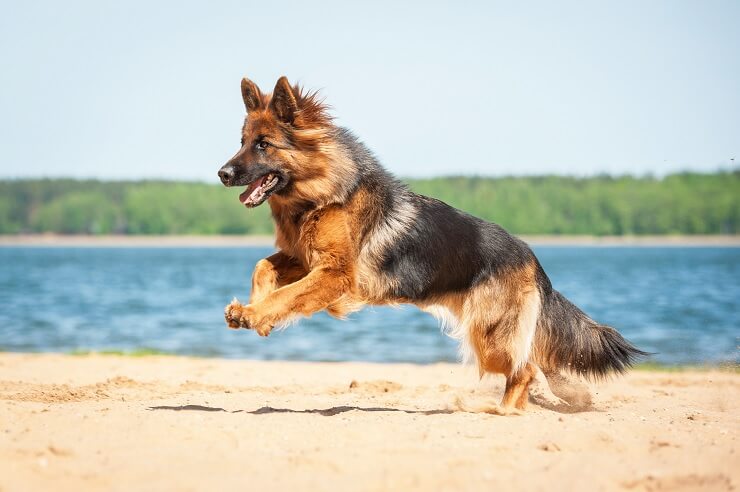 Heinrich – This means home of the King.
August – Meaning great and magnificent.
Rudolph – Famous wolf.
Stein – This is an awesome name for a strong dog, as it literally means stone.
Edel – Meaning respected.
Garin – Famous warrior.
Madelhari – War counselor.
Gerwalta – Meaning mighty with a spear.
Hildagarde – Meaning fortress.
Petra – Meaning solid as a rock.
Bavaria – A federal state of Germany.
Ritter – Knight.
Zelda – Meaning female warrior.
Brantley – Meaning sword.
Panzer – A type of German tank.
Blitz – Lightening.
Krieger – Meaning warrior.
Göttin – This means goddess.
German Hunting Dog Names
Did you know that many German dog breeds were originally bred for hunting?
One of the most well-known is the Weimaraner. These amazing dogs are used in hunts because of their amazing sense of smell. They are also nicknamed the Grey Ghost because of their unique hunting style.
If you have a hunting hound and fancy giving them a name with a German twist, then look no further. We have barked up every tree to find the best hunting dog names for you.
German Hunting Dog Names
Emmett – This is a great name for a hunting dog, it means Industrious and strong.
Jaeger – This means hunter.
Ozzy – Meaning divine spear.
Ida – Hard working.
Serihilda – This means Armored battle maiden.
Baldwin – This means brave friend.
Gunther – Bold warrior.
Wolfgang – This means travelling wolf.
Bernadette – Meaning brave as a bear.
Brunhilde – Meaning armed for battle.
Millie – You may have heard this name before, but in German this means gentle strength.
Wanda – This means shepherd or wanderer.
Sigmund – Victorious protection.
Leonard – Brave lion.
Alger – Meaning clever warrior.
Cool German Dog Names
Still not found a name for your furry friend?
Perhaps your pup needs a name more suitable for their swagger.
With these names, your dog is sure to be the coolest canine around. Take your pick from our list below:
Harbin – Little shining fighter.
Oettinger – The most popular beer in Germany.
Katrin – Meaning great beauty.
Ugo – This refers to mind, heart and spirit.
Albern – White.
Royland – Famous throughout the land.
Sonnig – This means sunny.
Porsche – Like the car manufacturer (great for a dog who can run fast).
Diamont – Diamond.
Ingrid
Edelweiss – A white flower and the national flower of Austria.
Drachen – German for dragon.
Zeni – To thrive.
Grau Wind – German for Grey Wind like the direwolf from Game of Thrones.
Schnee – German for snow.
Schokolade – Chocolate.
Elbe – A large German river.
Summary
Picking a German name for your dog is a brilliant and unique idea.
Whether your dog descended from German breeding, or you just love Deutschland – there is a German name that is bound to be paw-fect for your pooch, whether you own a dashing Dachshund or a ginormous Great Dane.
Our top tip is to choose a name that really suits your dog – whether that is based upon their coat color, their personality, or even their looks.
We understand that finding the right name for your dog is hard. But we hope that with our list of German names, you have found one that is a fantastisch fit for your pup.