Congratulations, you have chosen to welcome a family member into your home.
Are you struggling to find a name for your new furry friend?
Naming your new pup can be challenging, but we have got some paw-some names for you and your new Chihuahua. Ranging from cute to silly, there is a name out there for your little pal.
If you're like most dog parents (or parents-to-be), you care for your pet immensely.


Exam fees are included, which saves you around $50-$250 per sick visit.

PetPlan covers injury and disease in every adult tooth — not just the canines.

Breed Specific Conditions
Not all providers cover hereditary conditions linked to breed. PetPlan does.
Take a look below for a name that gets your Chihuahua's tail wagging.
You would be barking mad to miss out on these great names:
Chihuahua Names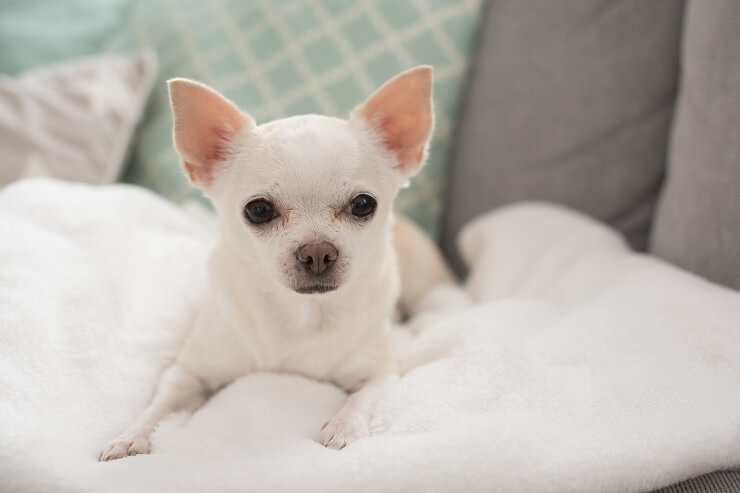 Chihuahuas are well known for often having a bark bigger than… well, them!
We think that it's really important to choose a name that lives up to their famous yap. Because they make such bold and brave buddies, they truly deserve the perfect name. Take a look at our names below, which one is your favorite?
Chihuahua Names
Yapper
Dotty
May
Coco
Kylie
Finn
Peyton
Piper
Ramona
Sweetie
Gracie
Whiskey
Jak
Harry
Sammy
Brutus
Chewwie
Maximus
Will
Mickey
Noah
Paws
Levi
Amy
Missy
Cosmo
Wyatt
Pebbles
Cody
Tango
Bill
Domino
Scotty
Jessie
Corky
Kira
Ellie
Zippy
Carly
Caleb
Lola
Pearl
Winston
Patch
Emily
Cola
Zoe
Waldo
Pepper
Solo
Alexa
Biscuit
Emilia
Olivia
Pip
Nemo
Bruno
Rosie
Nikki
Elmo
Milo
Kirsty
Boris
Todd
Paige
River
Isla
Alison
Lark
Skye
Cooper
Nina
Piper
Kiki
Oscar
Ezra
Lucky
Luke
Nora
Quinn
Tess
Bobby
Billy
Bingo
Spencer
Eddie
Timmy
Morris
Aiden
Hollie
Misty
Robin
Star
Lolly
Elijah
Chuck
Fido
Violet
Cindy
Honey
Female Chihuahua Names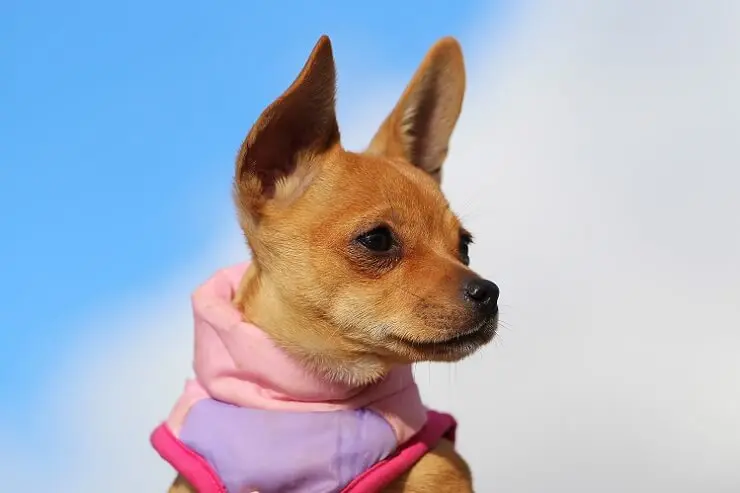 Are you looking for a fab-fur-lous name for your feisty female Chihuahua?
We have picked some brilliant names that we think you will woof.
A great way to choose a name for your furry-friend is by looking and finding a character that you love, that may reflect your pet's personality. For a sassy pup, we think that Sansa would be a great pick…
Regina – Mean Girls character.
Felicia
Pumpkin
Petunia – Great for a pup as pretty as the flower.
Deedee
Sansa – Game of Thrones.
London
Ursula
Leia – Star Wars.
Margarita
Aurora
Sugar
Ariel – Disney.
Peach
Fifi
Tiffany
Princess
Buffy – The famous vampire slayer.
Coral
Duchess
Beauty
Paris
Katniss – The Hunger Games.
Mia
Penny – Great for a Chihuahua because of their small size.
Angel
Kardashian
Scarlett – Gone with the Wind.
Penelope
Gigi
Harriet
Carmen
Male Chihuahua Names
Even though Chihuahuas are small, they are known for being fierce and bold. So, your male Chihuahua needs a name that reflects his macho and masculine personality!
Here are some great names for your male Chihuahua. Our favorite is Butch. What is yours?
Butch
Andre
Rex – This is a tough name, for your tiny tough pup.
Duke
Cub
Asher
Otis
Bailey
Bam-Bam
Elvis
Pop-Eye – The famous cartoon sailor.
Scooter
Croft
Hulk
Bubba
Brewster
Astro
Gnasher – After Dennis the Menace's faithful hound.
Buddy
Flintstone – After The Flintstones, Yabba-dabba-doo!
Zeb
Ralph
Phillip
Hero
Scar
Louis
Meeko
Rogue
Tigger
Rambo
Hercules
Chihuahua Puppy Names
Did you know that the smallest dog in the world is a Chihuahua named Milly? It's fair to say that your Chihuahua pup will be just as tiny as her to start with.
We think that Chihuahua puppies are so a-paw-arable. After all, who could resist those tiny delicate paws? These names are sure to have you going "awwww".
Titan – This name is ironic for such a tiny tot.
Bambi
Clove
Sage
Furby
Cookie
Poncho
Cinnamon
Babe
Tinker
Fluff
Marshmallow
Bob
Ant
Squirt
Shelby
Button
Peanut
Rascal
Pixie
Cute Chihuahua Names
Still not found the right name for your pup
Whether your Chihuahua is a deer head or an apple head, they are bound to be the cutest canine around. Our favorite name from this list is Waffle. Take a look at our list below and let us know which name you think is the best:
Cute Chihuahua Names
Waffle
Sweet Pea
Iggy
Dew-Drop
Boo-Boo
Moon
Beau
Trinket
Muffin
Sonny
Cheddar
Chipotle
Pop
Paprika
Barbie
Uno
Baby
Pom-Pom
Bubbles
Mini
Twinkie
Munchkin
Mexican Chihuahua Names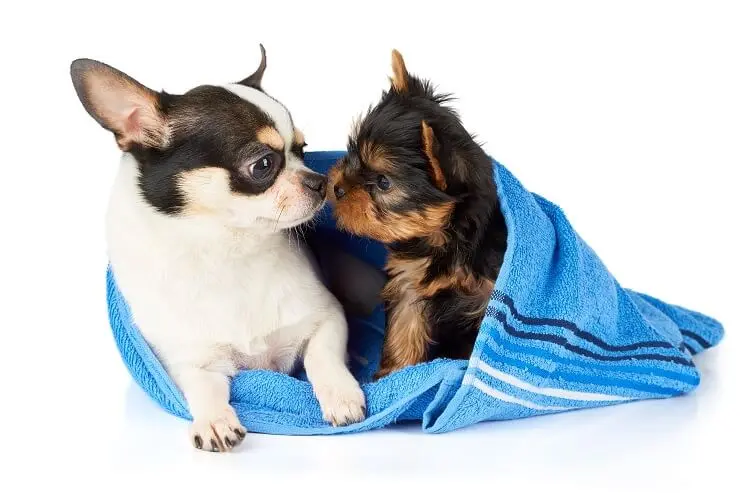 Did you know that Chihuahuas originate from Mexico?
We think that it would be awesome to give your pup a Mexican inspired name, to connect them to their heritage. A Mexican name would also be sure to make your Chihuahua stand out from the crowd.
Mexican Chihuahua Names
Burrito – The name of a famous Mexican dish.
Tabasco – A Mexican hot sauce, great for a fiery Chihuahua.
Miguel – The Mexican equivalent of Michael.
Consuelo – Comfort.
Coqueta – Meaning flirtatious (great for a Chihuahua who steals everyone's heart).
Paloma – Dove.
Perrito – Meaning little dog.
Loca – Crazy.
Solana – Meaning sunny place.
Pedro – Equivalent to Peter.
Juarez – Mexican city.
Fiesta – Meaning party.
Taco – Another Mexican dish.
Tortilla – A flat bread like food, a Mexican staple.
Rojo – This means red.
Rico – Meaning rich (perfect for a pup living the Beverly Hills life-style).
Querida – This means dear.
Blanca – Meaning white.
Antonio – Equivalent to Antony.
Spanish Chihuahua Names
Still haven't found the right name for your Chihuahua?
As Mexico is a Spanish-speaking country, it's only fair that we provide you with some more names that link with your Chihuahua's South-American heritage.
Did you know that the Chihuahua's closest ancestor is the Techichi? This was a small South-American hunting dog, worshipped by the Toltec people.
Amor/Amar – Meaning love.
Chico – Boy.
Amigo – This means friend.
Bolero – A Spanish dance.
Mija – My daughter.
Flor – Meaning flower.
Gitano – This means gypsy.
Luna – This means moon.
Mariposa – Fitting for a dog as beautiful as its meaning (butterfly).
Chica – Meaning girl.
Cruz – Cross.
Reina – This means queen.
Santo – This means holy.
Zorro – Meaning fox.
Funny Chihuahua Names
Maybe you are looking for a more light-hearted name for your Chihuahua?
Picking a funny name for your new pooch is a great way to make your pup stand out from other dogs. These names would be great for a cheeky Chihuahua who loves to clown around.
These names are bound to have you howling with laughter:
Funny Chihuahua Names
Krusty – Like the clown off The Simpsons.
Elf
Goliath
Killer
Pocket
Scrappy
Thumbelina
Tiny-Tot
Yoda – Star Wars.
Mouse
Prince of Barkness
Shrek
Big Mac
Gremlin
Beverly Hills Chihuahua Dog Names
Chihuahuas gained popularity thanks to Disney's movie Beverly Hills Chihuahua. We think it would be an awesome idea to name your Chihuahua after one of these Disney dogs – especially if you are a fan of the movie.
Chloe
Papi
Delgado
Diablo
Chico
Vasquez
Marcus
Montezuma
Delta
Rosa
Manuel
Chucho
Loretta
Maria
Chiquita
Famous Chihuahua Names
Chihuahuas have risen in popularity. Many celebrities even own a Chihuahua as they are favored for their cuteness.
There are also many Chihuahuas on our TV screens, so maybe you would like to name your Chihuahua after one of these Hollywood hounds? Take a look at all the A-list Chihuahua names we have found:
Famous Chihuahua Names
Boo-Boo – Formerly the smallest dog in the world in the Guinness Book Records.
Mimi – The Osborne's pet Chihuahua.
Tito – An animated Disney Chihuahua.
Gidget – The famous Taco Bell pup.
Mammoth Mutt – From the cartoon series Krypto the Super Dog.
Bit Bit – Britney Spears' former Chihuahua pup.
Tinkerbelle – Paris Hilton's teacup Chihuahua.
Ren – From the cartoon Ren and Stimpy.
Coco – from The Dog Whisperer.
Lou – The Chihuahua from the TV series The Soup.
Mojo – The Chihuahua in Transformers.
Choo-choo – The name of the former Hollywood star Marilyn Monroe's Chihuahua.
Evita – A Chihuahua owned by Madonna.
Summary
Choosing a name for a Chihuahua is hard. Their small and feisty nature makes them a great and fun canine companion to have around, but such a cute and bold breed deserves the perfect name.
A great way to choose a name for your new mini four-legged pal is to find one that fits their looks or personality.
We think another great way to choose a name is based on their Mexican heritage, or if you are looking for a name with a bit of fun, choose something ironic!
Hopefully these lists have lent a helping paw in your search for your Chihuahua's name.
Let us know which one you choose in the comments section below…