There are two types of Chihuahuas: the short-haired and the long-haired.
The only difference between these two pups is the length of their coat. Their size, temperament, and even their weights are the exact same for both dogs.
Chihuahuas have glamour and sassiness by the bucketload!
You will never encounter a dull moment with this furry friend by your side, so let her add to the joy in your life.
What is a Long Haired Chihuahua?
Chihuahuas originated in the Mayan times as symbols and gifts of royalty, and then made their way into Mexico.
When discussing Chihuahuas the phrase tiny but mighty almost never goes unsaid.
What they lack for in size, they make up for in personality.
This pedigree is classified as a toy pup. Dogs in this group tend to be very small, affectionate, loyal and very protective. However, social skills do not come easy for some dogs in this category.
Overview: While each dog will have a different personality, they will all give you loyalty, protection and love.
Purpose: Chihuahuas were used as a symbol of religion – they were made to be viewed as forgiveness of a sin.
Weight: 6 pounds.
Size: 8 inches.
Temperament: These dogs are very vocal because they want strangers to know that they are present. However, their temper is usually benign and loving to their owners.
Long Haired Chihuahua Appearance

As far as appearance goes the Long Haired Chihuahua and the Smooth Coat Chihuahua have almost the same exact features.
The only difference is the length of the coat and the amount of grooming.
Their body is a rectangular shape, making them longer than they are tall.
Normally a Chihuahua's ears will be erect, although it does ultimately depend on what mood the pup is in. The tail will always be carried with an upward curve.
They are often described as swift-moving because of how small and compact they are. The eyes are full and lie on an apple dome skull. The muzzle is very short with slender jaws and cheeks.
She will not grow past about six pounds in weight and eight inches in height.
Colors and Coat
As far as colors go, they can be:
Solid color (black, tan, white)
Patterned
Marbled
Tri-colored
Their long coat could be flat or wavy.
Single coats are more popular regardless of the coat length, but that does not mean double coats are nonexistent for these little guys. Contrary to popular belief, Long Haired Chihuahuas do not necessarily shed more than Short Haired Chihuahuas.
5 Fun Facts About Long Haired Chihuahuas
It takes a little over two years for a Long Haired Chihuahua to grow a full coat.
They are the smallest purebred dog in the world.
Puppies are born with a molera (a soft spot on top of the their head).
You can train them to use a litter box to go to the bathroom.
They are recognized by the American Kennel Club, Canadian Kennel Club and The Kennel Club of the United Kingdom.
Long Haired Chihuahua Personality and Temperament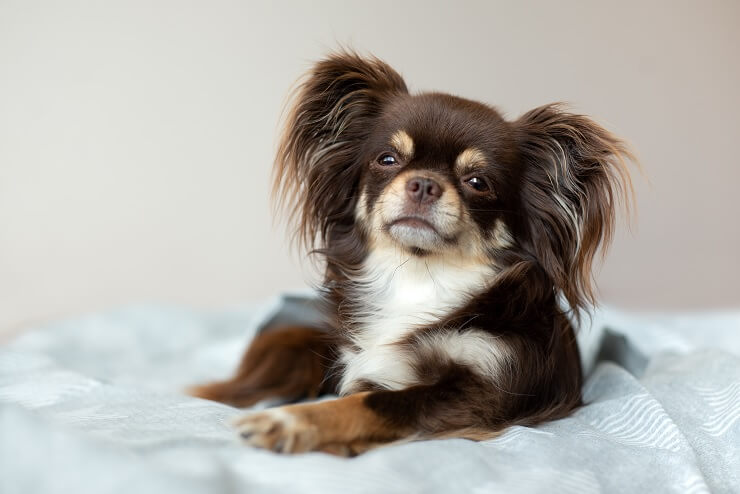 Even though their perfect day would be cuddling on their owner's lap watching movies, they are still very playful and energetic. Their temper is mild unless given a reason not to be, and their instinct is to love and protect.
Chihuahuas are often compared to children that never grow (they always have energy), it is just a matter of how they use it.
If they are bored or become frustrated, they tend to get even more hyper. To avoid your toy pup being hyper all day long, take advantage of the daytime and let your pup blow off some steam.
Tug of war seems to be the all-time favorite game for Long Hair Chihuahuas. This dog tends to want to bite (or at least nip at things) and tug of war tends to be the perfect game for that.
Unfortunately they are known for yipping. They have a very expressive personality and they want to be heard. When they do bark, you may be caught off guard the first couple of times. For their size, the bark is pretty loud.
Chihuahuas can be very sociable with the right training and upbringing. A dog this protective of their owner is not going to let a complete stranger walk up, without it being known that the dog can and will pounce.
With that being said, these dogs actually tend to have a soft spot for children. Of course, if the child gets a little too rough, the dog may become a little frustrated and yelp and potentially bite.
Caring for a Long Haired Chihuahua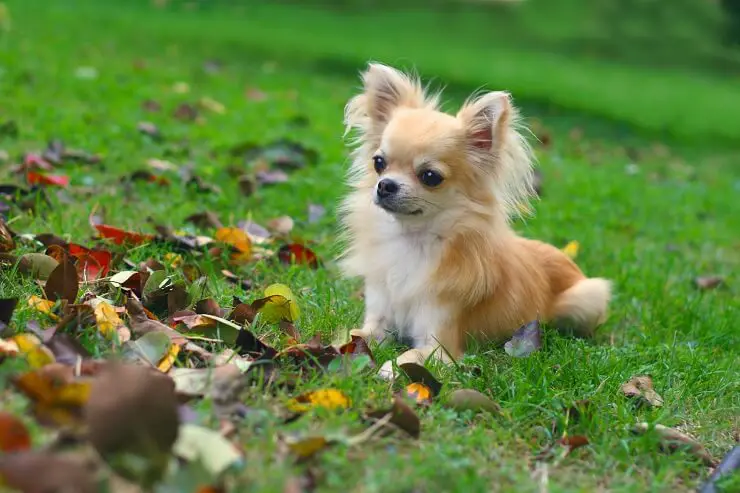 When taking on the responsibility of owning a Long Hair Chihuahua, you must remember how small they are.
They are very fragile because of their size and also very easy to lose under a pillow or a blanket. A family with a lot of time and dedication would be best suited for this pup. It would be idea for the children to be a touch older, so that they can grow accustomed to traditions and behavior with the dog.
Exercise Requirements
Number of Walks Per Day: 1.
Total Exercise Needed Per Day: 20-30 Minutes.
Grooming and Shedding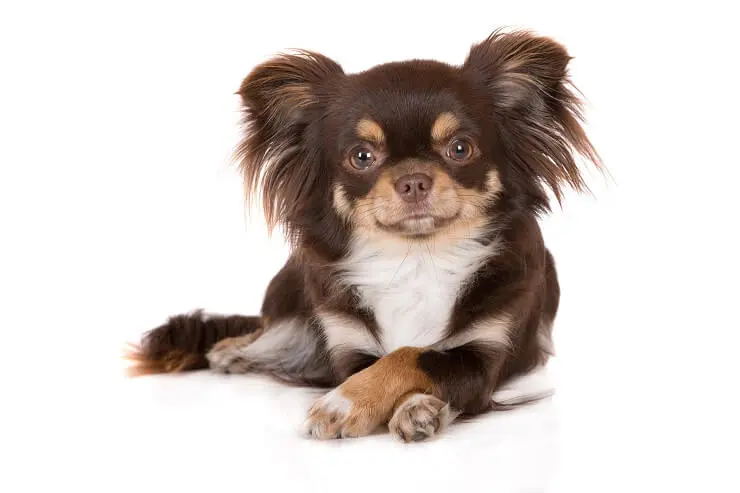 Like every dog, the shedding varies with the seasons. In the warmer months their coats tend to shed more than in other months. In the cooler months, thinner hairs shed to make room for a thicker coat.
During these times this pooch needs to be brushed at least once a day to avoid their coat getting knotted.
Feeding and Diet
You will want to feed your pup once in the morning and once at night, making it a big deal so that they have something to look forward to.
| Calories Per Day: | Cups of Kibble Per Day: |
| --- | --- |
| 400 | 1 |
Known Health Problems
Like with any dog, the Chihuahua does have some common health issues:
Luxating Patella
Collapsed Trachea
Hypoglycemia
Tooth Infection
If you're like most dog parents (or parents-to-be), you care for your pet immensely. Having pet insurance could save you from the headache of going to the vets with reimbursement for every vet bill from now on!

Exam fees are included, which saves you around $50-$250 per sick visit.

PetPlan covers injury and disease in every adult tooth — not just the canines.

Breed Specific Conditions
Not all providers cover hereditary conditions linked to breed. PetPlan does.
How Long Does A Long Haired Chihuahua Live?
Despite their common health issues, they do have a very long lifespan ranging anywhere between twelve to twenty years.
How Much Does A Long Haired Chihuahua Cost?
In the US these pups cost from $400-1,200.
How to Train Long Haired Chihuahuas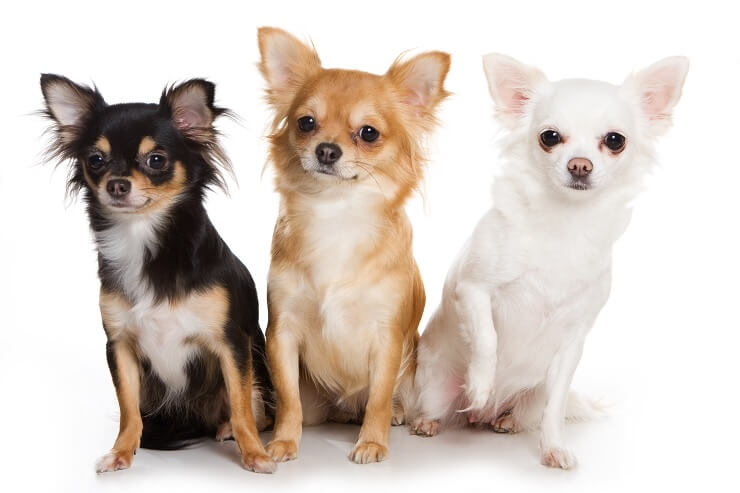 Chihuahuas are often stubborn, so as soon as you get your pup home you should begin training.
Start with basic commands such as sit and stay.
This will help you when you do more in depth training.
Long Haired Chihuahuas can be very territorial, so establishing dominance with them is a must. If there is a certain part of the house or particular furniture they are not allowed in or on, make it known. A good tactic for this is to walk them around the house with a leash on, showing them where they are allowed and where they are not.
Just like with most dogs, this breed is very food motivated. If there is something that your Chihuahua is not grasping easily, or you just want to teach them some new tricks, treats will work very well.
Positive reinforcement is crucial to let the dog know that they are doing exactly what you want them to. Chihuahuas are smart and will correlate their successes with the sound and pitch of your voice. While food is a good idea, love and affection is the all-time high for these toy pups.
Buyer's Guide
| | |
| --- | --- |
| Pros | Cons |
| Make good travel companions. | Bonds with a single person. |
| Great apartment dogs. | Very sensitive to cold weather. |
| Have a long lifespan. | They are delicate. |
| Good watch dogs. | Can bark a lot. |
| Easy to groom and care for. | |
Quick Breed Summary Table
Breed Characteristics
Size:
7-9 inches
Weight:
6lb
Lifespan:
12-20 years
Coat:
Long length, straight or curly
Color:
Black, white, brown and spotted are the most common
Do They Shed:
Minimal
Temperament:
Mild-Moderate
Intelligence:
Gets distracted easily
Socialization:
Socializes well with others if taught at an early age
Destructive Behavior:
Can be aggressive when frustrated or left alone
People Skills:
Does not do well with strangers
Good with Children:
Yes, as long as the child is not too rough
Activity Levels:
Very energetic and playful
Summary
This little toy breed will fit in most with a family that is willing to give them all of their attention.
They have a very unique and sassy personality and will need some training to tame it down just a little.
Given their high intelligence levels, mental stimulation will be a good thing for them (playing fetch, hide and go seek).