The chiweenie is a crossbreed dog mix between a Chihuahua and a dachshund. This mix is commonly referred to as a choxie or doxihuahua.
Chiweenies are small dogs that measure up to 10 inches at the shoulder and weigh around 7–10 pounds. These dogs are energetic, friendly, and extremely loyal to their families. The breed is perfectly suitable for life in a city apartment or a country house.
This dog is energetic, demands attention, and is known for barking a lot. With these challenging traits, the chiweenie is not suitable for all dog owners.
Chiweenies cost between $200 and $1,000, depending on the reputation of the breeder and the dog's pedigree.
Chiweenie Characteristics & Overview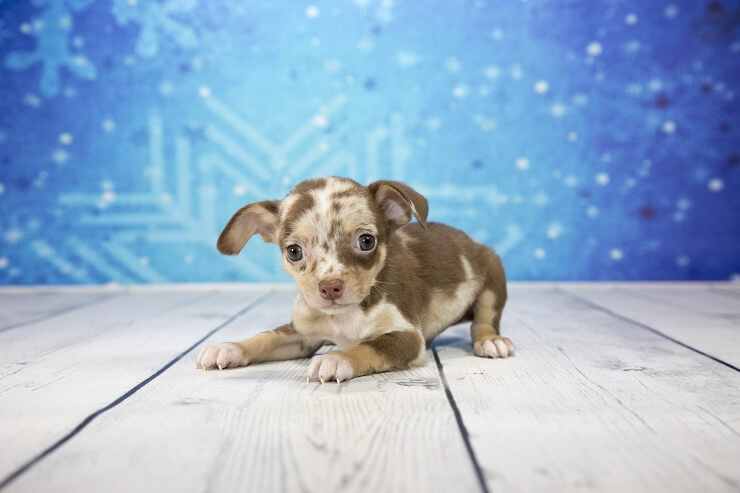 | | |
| --- | --- |
| Common names: | Chiweenie, choxie, doxihuahua |
| Origin: | Germany |
| Parent breeds: | Chihuahua and dachshund |
| Breed group: | Hybrid |
| Size: | Small |
| Height: | 6–10 inches |
| Weight: | 5–11 pounds |
| Colors: | Brown, chocolate, black, white |
| Coat: | Smooth, long or short |
| Life expectancy: | 12–16 years |
| Temperament: | Loyal, energetic, attention-seeking, playful |
| Shedding: | Minimal |
| Barking tendency: | Frequent |
| Cost: | $200–$1,000 |
Origin & Purpose
The chiweenie originated in Germany around the end of the 20th century. The purpose of mixing the Chihuahua and dachshund breeds remains unclear.
Today, the chiweenie is considered a designer breed and is not recognized by the American Kennel Club (AKC).
Parent Breed: Chihuahua
The Chihuahua is an ancient breed that is named after Chihuahua, Mexico. The breed is a descendant of the Techichi dog that was kept by the Toltec people as early as the ninth century.
The Chihuahua is a small elegant dog that reaches up to 8 inches in height and weighs no more than 6 pounds. This dog has short smooth fur that includes various colors such as black, fawn, cream, red, and white.
The Chihuahua is a confident, loyal, and playful dog. This breed needs training early on for ideal behaviors.
Parent Breed: Dachshund
The dachshund is a German breed that originated in the 15th century and was used for hunting. This breed can be standard-sized or miniature. Standard-sized dogs are up to 9 inches in height and nearly 30 pounds in weight. Miniature dogs reach just 6 inches in height and weigh no more than 10 pounds.
Dachshunds have short or medium-length coats and can vary in color. Coat colors range from black and chocolate to cream and white.
These dogs are fearless and protective, yet loveable and friendly with their families. The breed is always willing to play and spend time with its owners.
Lifespan
The chiweenie can live for between 12 and 16 years, which is considered a long life for a dog. The length of the dog's life depends on the dog's health condition.
Chiweenies may suffer from conditions like hypothyroidism, diabetes, and seizures, which should be closely monitored.
Chiweenie Appearance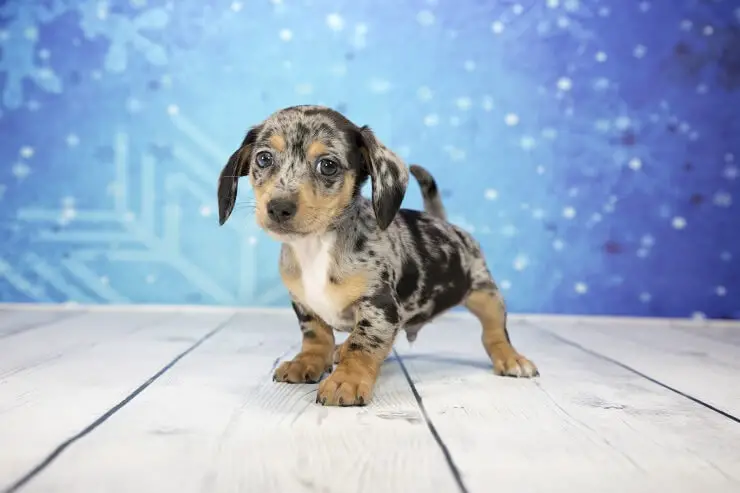 Chiweenies are small dogs that can differ significantly in appearance, depending on which of their parents' traits the puppies inherit. This mix comes in a range of body, ear, and color variations.
Height and Weight
Chiweenies are small dogs that measure 6–10 inches tall and weigh between 5 and 12 pounds. Males and females are the same size. There are no height and weight standards for the chiweenie because it is a relatively new mix and isn't registered with the AKC.
Puppies vary in size depending on the traits of their parents. The chiweenie puppy reaches its adult size and appearance between the age of 18 and 24 months.
Colors
Chiweenies can come in a variety of colors and can be solid-colored or multicolored. Coat colors depend on the color of the dog's parents.
Some of the most common colors passed down from the chiweenie's parents are brown, black, and white. Rare colors are gray and red.
Coat
Any combination of parent coat traits can be passed to the chiweenie. Most Chihuahuas tend to have short and smooth single coats. Dachshunds can have long, straight or wavy coats.
Chiweenies often have interesting color patterns of two to three different colors, which gives this breed its unique appearance. These dogs are low shedders and don't require frequent brushing.
Body shape
The chiweenie is a small dog that can inherit an elongated body and short legs from its dachshund parent, or a shorter body and longer legs from its Chihuahua parent.
The shape of the breed's ears also varies based on the dominant traits of its parents. Most chiweenies inherit sharply pointed ears from their Chihuahua parent. Some dogs have long, floppy ears, like the dachshund. Chiweenies inherit their long and narrow tails from both parents.
Personality and Temperament
The chiweenie is energetic, playful, intelligent, and protective of its owners. Just like dachshunds, this mix enjoys attention and loves adventure.
The breed possesses a strong personality and confidence, inherited from the Chihuahua.
Chiweenies may be a lot to handle because they bark a lot.
Barking
Chiweenies are loud dogs that love barking. These dogs make great watchdogs and will alert their owners if anyone approaches the house.
This mix will also use barking to get attention from its owner, which can be challenging for people who prefer a quiet environment. Barking habits can be controlled with training.
Chiweenie Care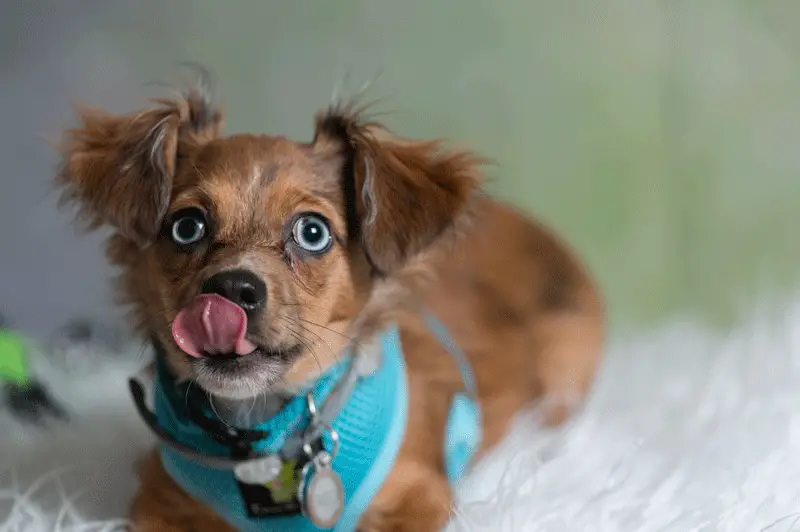 The chiweenie has minimal grooming needs, with occasional brushing and bathing every week or two. These dogs need regular dental care because, like most small breeds, they are vulnerable to tooth loss.
This mix also gets cold easily so wearing dog clothes, like warm sweaters and coats, can become part of the dog's grooming routine.
Food Needs
Though chiweenies are small dogs, the breed can gain weight easily. It's best to keep a strict diet to ensure the dog maintains a healthy weight.
Dog treats should be given rarely and treats should make up no more than 10% of the dog's daily intake.
Feed chiweenies twice a day at the same time with high-quality dog food for small breeds, and limit the dog's total food intake to 1/2 or 1 cup of food daily.
Grooming Needs
Most chiweenies have short smooth coats, making brushing a minimal requirement. Dogs with longer coats will need weekly brushing. This breed also needs an occasional bath every one to two weeks.
The most important part of chiweenie grooming is dental care, as these small dogs are prone to dental issues. Brush the dog's teeth two to three times per week and take the mix to a dental professional for deep cleaning every six months.
Exercise Needs
Chiweenies are energetic dogs that enjoy running and playing. These dogs need between 30 and 60 minutes of intense physical activity every day. This exercise can be divided into a walk in the morning and evening.
The breed also loves walking, running, active training, hiking, swimming, and other exercises. These dogs will make excellent adventure partners for outdoorsy people.
Chiweenies thrive in households with access to a yard where the dog can run around and play.
Mental Needs
The chiweenie is an intelligent dog that needs a lot of mental stimulation for harmonious development and a happy life. These dogs can easily become bored if not given enough mental stimulation. Boredom can result in aggression and destructive behaviors.
The breed benefits from learning new tricks during training, playing with various toys, and spending time outside exploring new places.
Common Health Concerns
Chiweenies are generally healthy dogs, but the breed can suffer from a number of health issues. Health problems are either inherited from parents or can occur if the dog doesn't receive proper care.
These dogs can inherit hypoglycemia (or low blood sugar) from their Chihuahua parents. This condition needs to be treated with a special diet and glucose solution injections. This mix can also develop diabetes, which requires continuous treatment.
Like many dog breeds, chiweenies can also suffer from joint issues as they age.
This breed also commonly experiences dental issues, which can be prevented or delayed with a balanced diet and regular teeth brushing.
Training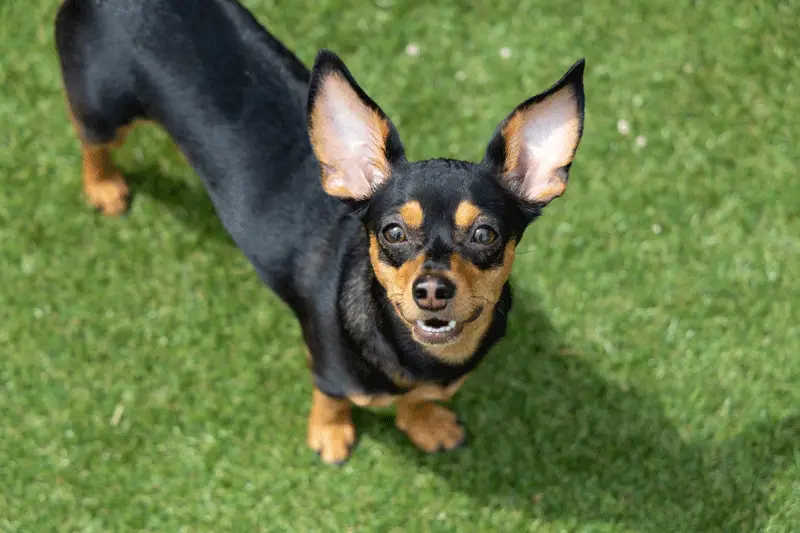 Chiweenies are stubborn dogs with strong personalities, but the breed loves learning and is eager to please its owner. These dogs can be difficult to house train, so it's best to hire a professional trainer to help.
The best strategies to train a chiweenie at home include positive reinforcement and interesting activities that keep the dog engaged in the training process.
For a chiweenie puppy, start with potty training, separation anxiety training, and socialization with other dogs early on. Socialization will help the dog develop confidence around others and prevent aggression in later stages of life.
Train the chiweenie for at least 5–10 minutes per day beginning when the dog is young.
Chiweenie Price
Chiweenies are not considered expensive dogs. The price for a puppy depends on the reputation of the breeder and the dog's bloodline.
Adopting this dog costs less than purchasing one.
How Much Is a Chiweenie?
A chiweenie typically costs between $200 and $1,000. The price can vary based on the breeder and the puppy's pedigree. Dogs with pure bloodlines can cost up to $2,000.
If this mix is adopted, the price can be as low as $200–$300 and includes all the necessary vaccines and a microchip.
How Much Does it Cost to Own a Chiweenie?
The initial cost of owning a chiweenie is around $300–$500. Initial costs include purchasing a collar and tags, leashes, food and water bowls, a bed, grooming essentials, and a variety of toys.
The long-term costs of owning a chiweenie are between $120 and $200 per month. Recurring costs include high-quality food, occasional grooming, and veterinary visits depending on the health condition of the dog.
Is a Chiweenie Right for You?
Chiweenies are loveable, friendly, and positive dogs that bring happiness to many households. The breed's love, loyalty, and playfulness will keep its owner entertained.
However, these dogs may be a challenge for some owners because of the dogs' specific training needs, exercise needs, and difficult personalities.
Who Should Get a Chiweenie?
The chiweenie is a perfect dog for big families living in the countryside, or in a city, who have access to a yard. These dogs enjoy all opportunities to be outdoors and will thrive in a place where they can fulfill their exercise needs.
The mix also enjoys company and is happy in a household where the dog can receive attention from various family members.
A chiweenie will also make a great dog for lovers of the outdoors. This dog will gladly accompany its owners on adventures like hikes, mountain climbs, and walks.
Who Should Not Get a Chiweenie?
The chiweenie is a difficult dog for owners who enjoy time alone and prefer the quiet. The dog's loud nature makes it less suitable for life in a small apartment or in a house where neighbors can hear the dog bark.
Since the mix may suffer from separation anxiety, it will bark even louder and may become depressed if its owner leaves for long periods of time.
Chiweenies also need lots of exercise, so people who don't have a yard or don't live close to large green spaces aren't suitable for this breed.
More

Chihuahua and Dachshund Mixes
Want a Chihuahua mix or a dachshund mix, but aren't keen on the chiweenie? Check out these other hybrid dog breeds:
Chihuahua Mixes
Dachshund Mixes